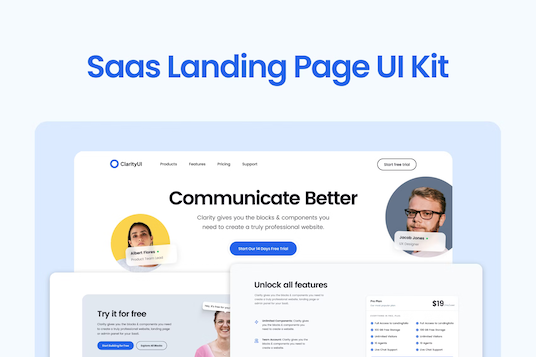 About Saas Landing Page UI Kit
SaaS Landing Page UI Kit is a SaaS UI kit with over 90 UI components to build SaaS landing pages with Tailwind CSS.
DuskUI is one of the many Tailwind CSS component libraries offered under Landingfolio.
👉🏻 Figma Files Included
👉🏻 Export in HTML, PUG, Vue, and React formats
👉🏻 Unlimited Export
👉🏻 Fully Responsive components
👉🏻 Quarterly and Annual payment options are available
🏷 Offers Lifetime Deal
👉🏻 New UI libraries every month
Pros and Cons
Pros ✅
Vue, and React versions are available

No export limit

HTML and .pug export option

Built-in Alpine.js support available*

Figma file included
Cons ⛔️
Components, sections, and elements do not come with Alpine.js code when you want to copy source code on Landingfolio panel.
You must download the library file with built-in Alpine.js functionality (FAQ sections, navigations...).
Included Components
Call To Action
Blog Items
Logo Cloud
Contact
Faq
Feature
Footer
Header
Hero
Steps
Saas Landing Page UI Kit
Paid
90 SaaS Landing Page UI components for Tailwind CSS
Get now
Features:
Categories:
Tags:
If you found our curation useful 👇
Buy us a coffee!
You might also like :)
Discover the latest products