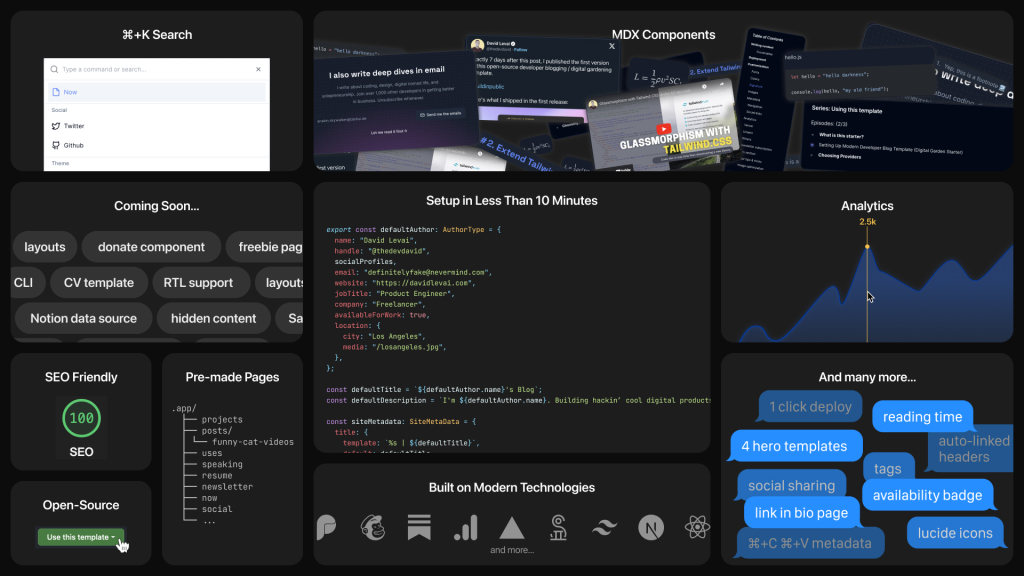 About Developer Blog Template
For developers seeking an open source blogging template, there is a fantastic option available which utilizes Next.js app router, MDX, Contentlayer, Tailwind CSS, @shadcn/ui, Lucide Icons, and other features. This template is perfect for those who want to create a digital garden with ease and efficiency. With its user-friendly design and advanced technologies, this template provides developers with a unique opportunity to showcase their content in a professional and visually appealing manner. So, if you're looking for a reliable and efficient option for your digital gardening needs, this open source blogging template is definitely worth your consideration.
Developer Blog Template
Free
An open-source blogging template for developers made with Next.js, @shadcn/ui and Tailwind CSS
Get now
Features:
🚀

Responsive Design

🚀

Tailwind CSS v3.0+

🚀

MDX Support

🚀

Documentation

🚀

JavaScript Plugin

🚀

Open Source

🚀

Dark Mode
Categories:
Tags:
If you found our curation useful 👇
Buy us a coffee!
You might also like :)
Discover the latest products