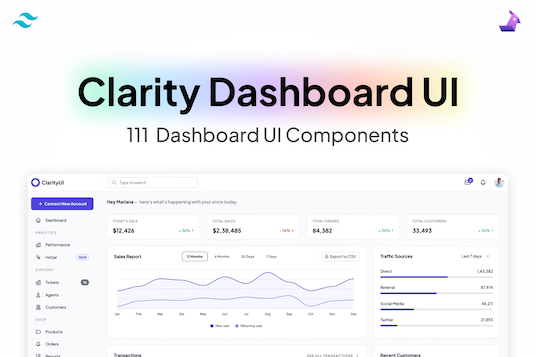 About Clarity Admin UI Kit
Clarity Dashboard UI is a modern UI kit with over 111 UI components to build dashboard, admin-like web applications with Tailwind CSS quickly. Celebration Dashboard UI is offered under Landingfolio, among other Tailwind CSS-specific component libraries.
👉🏻 Figma Files Included
👉🏻 Export in HTML, PUG, Vue, and React formats
👉🏻 Unlimited Export
👉🏻 Fully Responsive components
👉🏻 Quarterly and Annual payment options are available
🏷 Offers Lifetime Deal
👉🏻 New UI libraries every month
Pros and Cons
Pros ✅
Vue, and React versions are available

No export limit
HTML and .pug export option
Built-in Alpine.js support available*

Figma file included
Cons ⛔️
Components, sections, and elements do not come with Alpine.js code when you want to copy source code on Landingfolio panel.
You must download the library file with built-in Alpine.js functionality (FAQ sections, navigations...).
Included Components
Alert
Badges
Breadcrumbs
Buttons
Charts
Horizontal Menu
Images
Modal
Notification
Radio Switcher
Select Box
Side panel
Data Stats
Dashboard Steps
Table Grid
Table List
Table Stacks
Tabs
Text Input
Page Titles
Vertical Menu
Dashboard Page
Settings Page
Sign in
Sign up
Dropdown
Clarity Admin UI Kit
Paid
111 dashboard UI components to build web applications with Tailwind CSS
Get now
Features:
🚀

Responsive Design

🚀

Figma File
Categories:
Tags:
If you found our curation useful 👇
Buy us a coffee!
You might also like :)
Discover the latest products