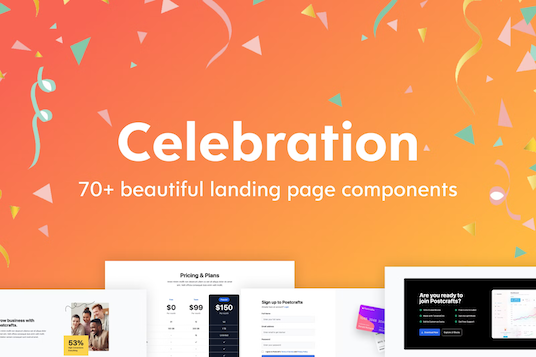 About Celebration UI Kit
Celebration UI Kit is a set of over 92 handcrafted UI components to build beautiful landing pages and websites. Celebration UI Kit is offered under Landingfolio among other Tailwind CSS-specific component libraries.
👉🏻 Figma Files Included
👉🏻 Export in HTML, PUG, Vue, and React formats
👉🏻 Unlimited Export
👉🏻 Fully Responsive components
👉🏻 Quarterly and Annual payment options are available
🏷 Offers Lifetime Deal
👉🏻 New UI libraries every month
Pros and Cons
Pros ✅
Vue, and React versions are available

No export limit
HTML and .pug export option
Built-in Alpine.js support available*

Figma file included
Cons ⛔️
Components, sections, and elements do not come with Alpine.js code when you want to copy source code on Landingfolio panel.
You must download the library file with built-in Alpine.js functionality (FAQ sections, navigations...).
Included Components
Pricing
Blog
Contact
Content
Call To Action
Feature
Faq
Footer
Header
Hero
Integration
Logo Cloud
Sign-in
Signup
Stats
Steps
Team
Testimonial
92+ landing page UI components for Tailwind CSS
Get now
Features:
🚀

Responsive Design

🚀

Figma File
Categories:
Tags:
If you found our curation useful 👇
Buy us a coffee!
You might also like :)
Discover the latest products